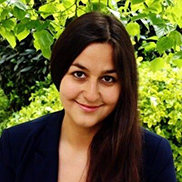 matyasova@ace-consulting.cz
Mgr. Eva Rakárová
"I've always enjoyed people most – that's why I chose psychology as a study of human being. I am most fascinated by the moment of change, and that is why I am grateful for the moments when I have a chance to see someone's development, enhance it or accompany it."
Eva studied psychology at the Charles University in Prague with the specialization in social psychology. During her studies, she was interested in research activities and actively participated in psychological conferences, professional seminars and socio-psychological experiments. She has completed the trainings in the group and community psychotherapy (psychodynamic orientation) at The Prague College of Psychosocial Studies.
She has experience with the crisis intervention, she has had the opportunity to work with the world's largest recruitment agencies and the Czech leaders in the field of consulting. She participates in the course "Managerial Game" at the Department of Arts Management at the University of Economics.
In ACE Consulting Eva works as a senior consultant focusing on the executive search and selection of employees and the psychological diagnostics. She prepares and implements Assessment and Development centers and 360° feedback. Recently she has been focusing mainly on the stress management and she enthusiastically promotes the burnout syndrome prevention programme.
What makes me happy? It's 100% traveling. As soon as I have more than two days off, me and my partner or friends try to go somewhere – anywhere abroad or in our country. I like to take photos of new places, talk to locals, taste everything new and get to know a different culture – and then we sometimes give even a travel lecture about it.
What do I usually do to relax? I love to host my friends at home with delicious food and drinks. I also like to "dance off" my excess energy and then calm down and find peace in yoga again. Last of my mental-hygienic trio is definitely good music – any kind (maybe except country

).